I've written extended pieces for COSMOS, The Conversation, CRUX. As well as short form video copy for my TikTok page, currently with over 7000 followers. I am always interested in growing my freelance writing work, please contact me if interested.

Fresh from the ISS: how a group of high school students is leading an experiment on
space-made

 yoghurt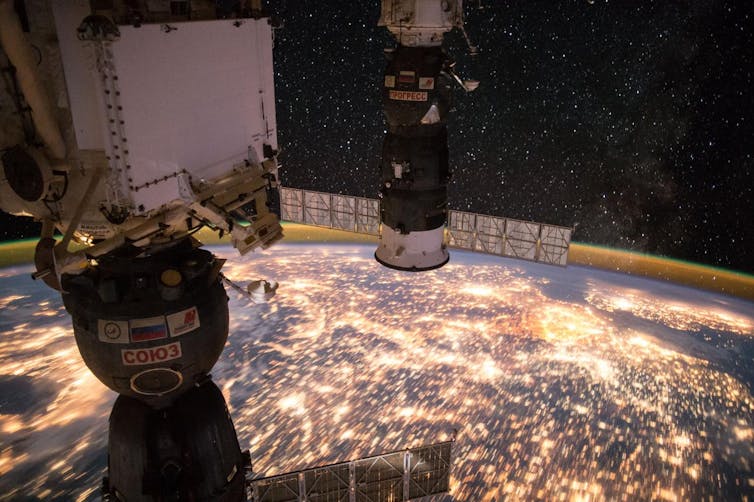 Sara Webb, Swinburne University of Technology and Rebecca Allen, Swinburne University of Technology
It's probably no surprise that keeping healthy in space is incredibly important. And without the typical resources found on Earth, creative solutions have to be explored.
Right now, some excited Year 10 and 11 students from around Victoria are waiting with anticipation as their space-made yoghurt – fresh off the International Space Station (ISS) – heads back to Australia from NASA facilities in the United States.
The students worked with researchers at the Swinburne University of Technology to design an experiment investigating the nutritional values of space-made yoghurt. The results could provide insight into how to best help astronauts with vital nutrition during long-haul spaceflight.
The human gut
A critical factor in human health is the overall health of our gut microbiome, which is estimated to host more than 100 trillion bacteria.
Maintaining the health and diversity of these bacteria might be even more important in space than on Earth. In 2019, NASA released groundbreaking results from a year-long study on astronaut twins Mark and Scott Kelly.
In 2016, Scott spent 365 days on the ISS, experiencing reduced gravity, while Mark remained on Earth. A fascinating result from the study was that Scott experienced significant changes to his gastrointestinal microbiome when in space – and which didn't persist after he returned to Earth.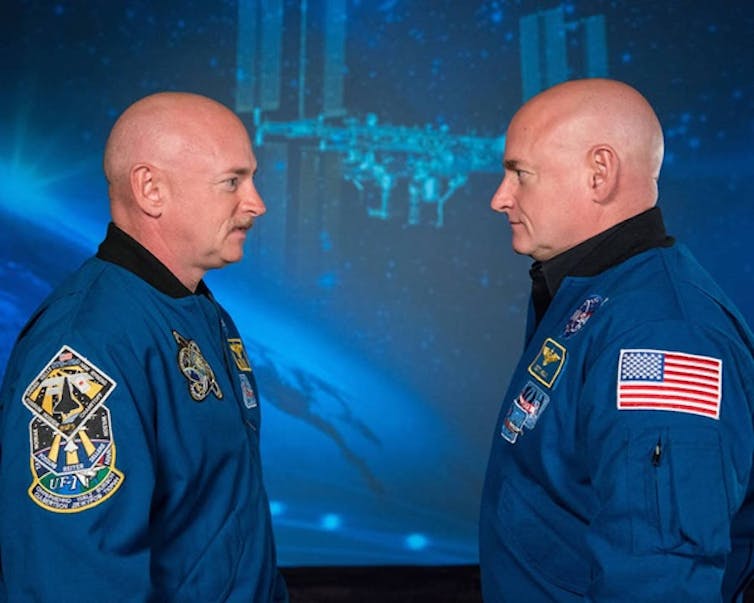 It's theorised the changes in microbiome experienced by astronauts are due to the lack of exposure to the "everyday" microbes encountered on Earth. Additionally, astronauts in space are exposed to less gravity, and high levels of radiation, which increase as they travel further away.
Understanding how to supplement astronauts' gut bacteria and sustain its health is one of NASA's current research goals. NASA is exploring this through both the use of capsule probiotics and simulated gravity experiments.
Why yoghurt?
Yoghurt is made by the bacterial fermentation of milk. The lactic acid produced in this process acts on the milk's proteins to create yoghurt's signature tart taste and thick texture. We wanted to see how this process is affected in the space environment.
Our student-led experiment is investigating whether different probiotic strains of bacteria can be used to make yoghurt directly in space. The ideal outcome would be to show that healthy, living bacteria cultures can be generated from frozen bacteria and milk products sent to space. This has not yet been achieved, although yoghurt has been made using bacteria returned from space previously.
This would be hugely beneficial during long space flights, where fresh food is limited and typical probiotic capsules would lose potency. Yoghurt also offers the nutritional benefits of the milk the bacteria are feeding off.
The road to space
Our brilliant students began this journey via two paths. Through the ongoing SHINE program, six exceptional STEM students from Victoria's Haileybury school worked with Swinburne staff and student mentors to develop, prototype and produce an experiment for the ISS.
In the past, this program has sent human teeth, chia seeds and magnetorheological fluid to the ISS. For the 2021-22 experiment the students had 24 five-millilitre vials (things have to be tiny in space) in which to build their detailed experiment.
The second path was via the inaugural Swinburne Youth Space Innovation Challenge (SYSIC), which provides the opportunity to send an experiment to space as part of the Swinburne/Rhodium Scientific payload.
Teams from four Victorian schools undertook an 11-week crash course in space applications before pitching their dream experiment. The winning team from Viewbank College was assigned six dedicated experimental vials, with all other teams also awarded a vial – all working towards the goal of investigating probiotics, bacteria and yoghurt in space.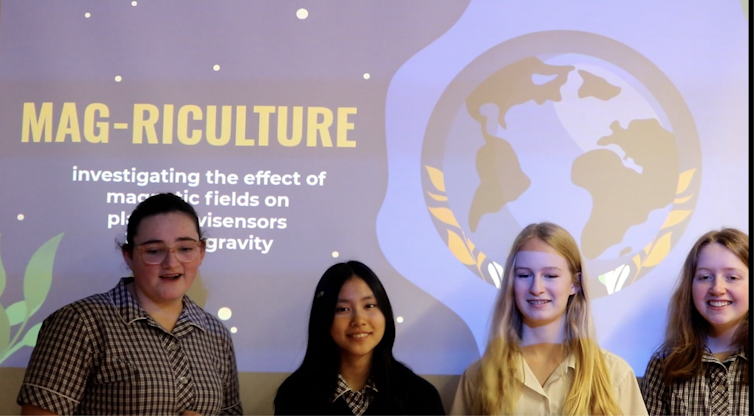 Aboard the ISS
Once ready for flight, the final bacteria samples were prepared and put into deep freeze by our Rhodium Scientific partners at the Kennedy Space Centre in the US.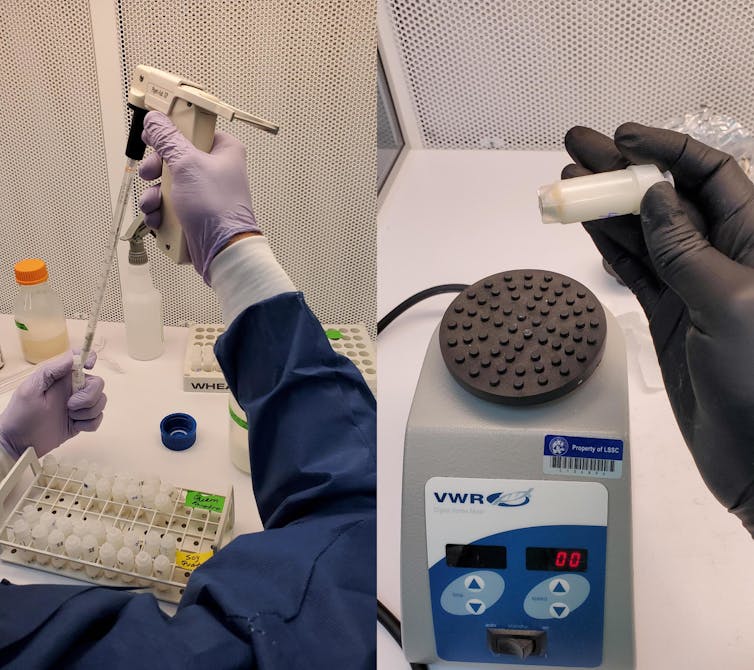 All 33 vials boarded their rideshare to the ISS via the SpaceX Crew Dragon 24, and were launched on December 24. Once onboard, the samples were removed from deep freeze by Astronaut Mark Vande Hei and set aside in a room-temperature experiment chamber in the Japanese Experiment Module, named Kibo.
After the allotted 48- and 72-hour timestamps (the time it takes to typically make yoghurt on Earth) the samples were placed back in deep freeze to preserve the progress. It's expected they would have become yoghurt during this time.
The samples returned to Earth in late January and will be investigated by staff and students in the coming months, once they return to Australia.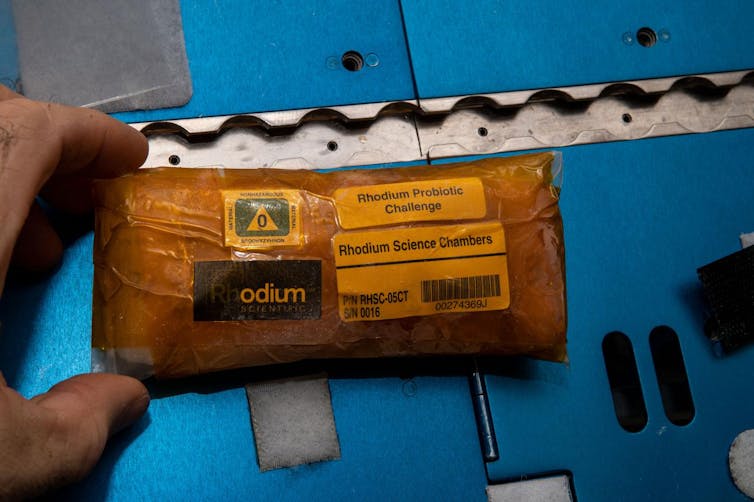 What we might find
The students chose to explore six different bacteria strains mixed together in various combinations, as well as certain strains isolated. With both the space-based experiment and control experiments conducted on Earth, we'll be able to determine whether the bacteria sent to the ISS were significantly affected by reduced gravity.
Working from the lab at Swinburne, we will use methods such as DNA sequencing to isolate any variations in the genetic makeup of the bacteria, and investigate how many generations (or cell divisions) have occurred in the samples.
The students also purposely designed the experiment to test both dairy and non-dairy milk options, to see the potential differences in nutritional output. But perhaps the most exciting part for all involved will be the final taste test – and finding out if space yoghurt really is out of this world.

Sara Webb, Postdoctoral Research Fellow, Centre for Astrophysics and Supercomputing, Swinburne University of Technology and Rebecca Allen, Coordinator Swinburne Astronomy Online | Program Lead of Microgravity Experimentation, Space Technology and Industry Institute, Swinburne University of Technology
This article is republished from The Conversation under a Creative Commons license. Read the original article.
Hunting galaxies far far away – here's how anyone can explore the universe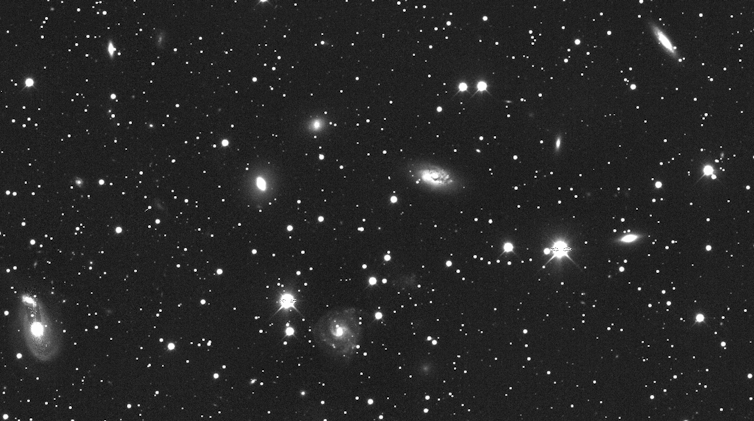 Sara Webb, Swinburne University of Technology
This article is part of a series explaining how readers can learn the skills to take part in activities that academics love doing as part of their work.
---
By far my favourite thing about my job as an astronomer is those rare moments when I get to see beautiful distant galaxies, whose light left them millions to billions of years ago. It's a combination of pure awe and scientific curiosity that excites me about "galaxy hunting".
In astronomy today, much of our work is handling enormous amounts of data by writing and running programs to work with images of the sky. A downside to this is that we don't always have that "hands-on" experience of looking at every square inch of the universe while we study it. I'm going to show you, though, how I get my fix of wonder by looking at galaxies that only a select few people will ever have seen, until now.
In just our observable universe we estimate there are over 2 trillion galaxies!
Galaxies at your fingertips
Only a few decades ago astronomers had to tediously examine photographic plates after a long, cold and lonely night of observing. In the 21st century we have access to information any time, anywhere via the internet.
Automatic telescopes and surveys now provide us with so much data we require machines to help us analyse it. In some cases human eyes will only ever look at what the computers have deemed is interesting! Massive amounts of data are hosted online, just waiting to be admired, for free.
Go online for a universe atlas
Aladin Lite is one of the greatest online tools available to look at our universe through the eyes of many different telescopes. Here we can scan the entire sky for hidden galaxies, and even decipher information about their stellar populations and evolution.
Let's start our universal tour by searching for one of the most visually stunning galaxies out there, the Cartwheel Galaxy. In the Aladin interface, you can search for both the popular name of an object (like "cartwheel galaxy") or known co-ordinates. The location will be centred in the interface.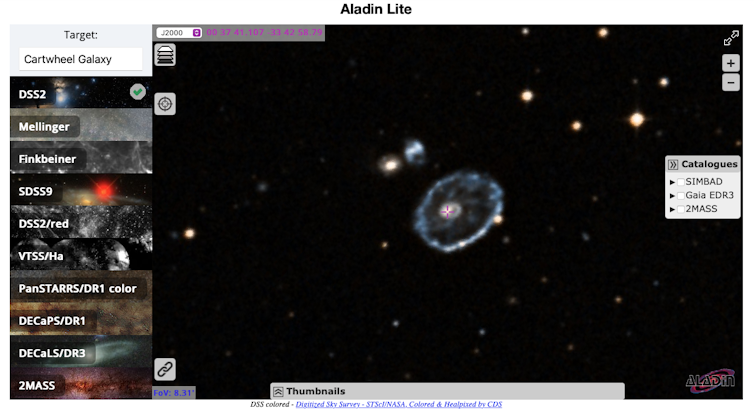 The first image of the Cartwheel Galaxy we see is from optical imaging by the Digitised Sky Survey. The colours we see represent different filters from this telescope. However, these are fairly representative of what the galaxy would look like with our own eyes.
A general rule of thumb as an astronomer is that "colour" differences within galaxies are because of physically different environments. It's important to note that things that look blue (shorter wavelengths) are generally hotter than things that look red (longer wavelengths).
In this galaxy, the outer ring appears to be more blue then the centre red section. This might hint at star formation and stellar activity happening in the outer ring, but less so in the centre.
To confirm our suspicions of star formation we can select to look at data from different surveys, in different wavelengths. When young stars are forming, vast amounts of UV radiation are emitted. By changing the survey to GALEXGR6/AIS, we are now looking at only UV wavelengths, and what a difference that makes!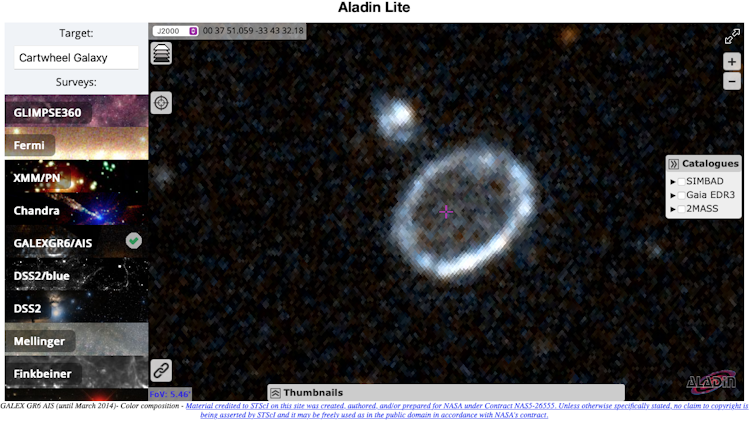 The whole centre section of the galaxy seems to "disappear" from our image. This suggests that section is likely home to older stars, with less active stellar nurseries.
Aladin is home to 20 different surveys. They provide imaging of the sky from optical, UV, infrared, X and gamma rays.
When I am wandering the universe looking for interesting galaxies here, I generally start out in optical and find ones that look interesting to me. I then use the different surveys to see how the images change when looking at specific wavelengths.
Universal Where's Wally
Now you've had a crash course in galaxy hunting, let the game begin! You can spend hours exploring the incredible images and finding interesting-looking galaxies. I recommend looking at images from DECalS/DR3 for the highest resolution and detail when zooming further in.
The best method is to just drag the sky atlas around. If you find something interesting, you can find out any information we have on it by selecting the target icon and clicking on the object.
To help you on your galactic expedition here are my favourite finds of the different types of objects you might see.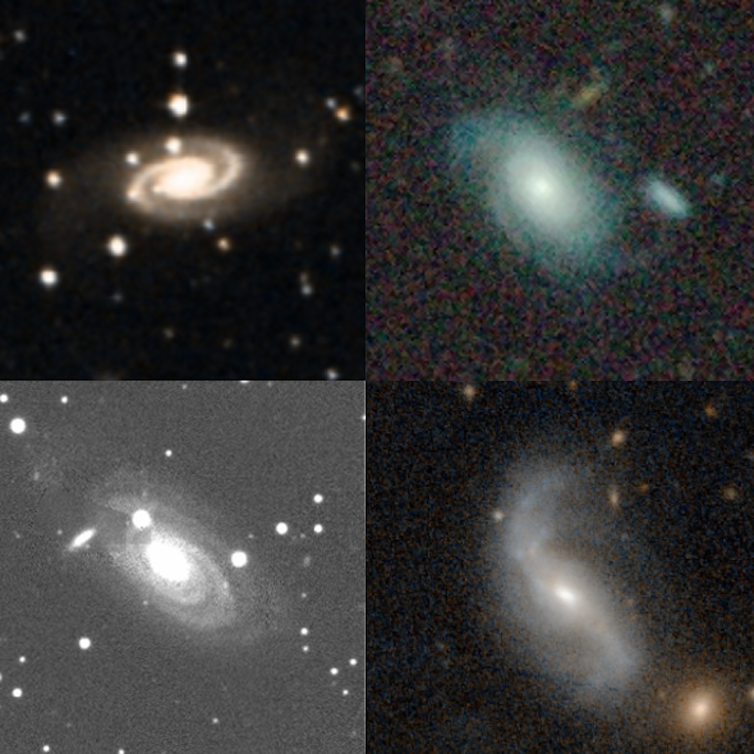 Spiral galaxies typically have a central rotating disc with large spiral "arms" curving out from the denser central regions. They are incredibly beautiful. Our own Milky Way is a spiral galaxy.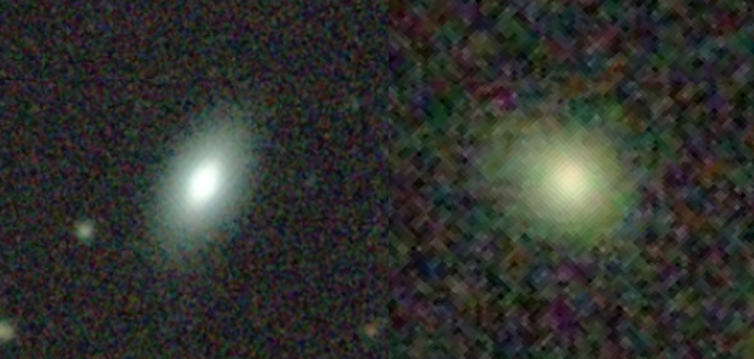 Elliptical galaxies are largely featureless and less "flat" then spirals, with stars occupying almost a 3D ellipse at times. These type of galaxies tend to have older stars and less active star-forming regions compared to spiral galaxies.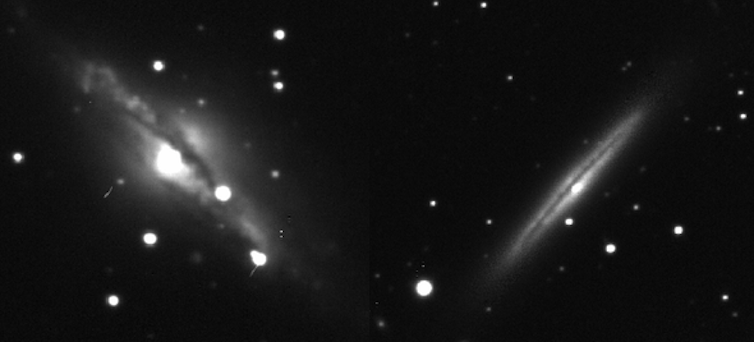 Lenticular galaxies appear like cosmic pancakes, fairly flat and featureless in the night sky. These galaxies can be thought of as the "in between" of spiral and elliptical galaxies. The majority of star formation has stopped but lenticular galaxies can still have significant amounts of dust in them.
There are also other amazing types of galaxies, including mergers and lenses, which are just waiting for you to find them. I'd love to see what amazing things you find over on Twitter at @sarawebbscience.
You can read other articles in this series here.

Sara Webb, Postdoctoral Research Fellow, Centre for Astrophysics and Supercomputing, Swinburne University of Technology
This article is republished from The Conversation under a Creative Commons license. Read the original article.
On its first try, China's Zhurong rover hit a Mars milestone that took NASA decades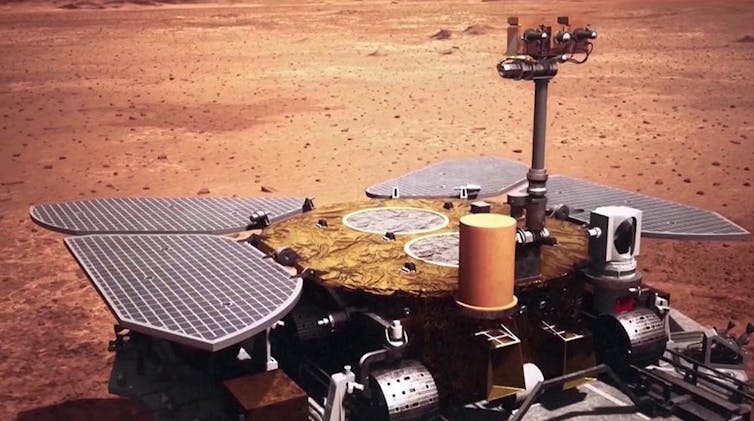 Sara Webb, Swinburne University of Technology and Rebecca Allen, Swinburne University of Technology
China's Zhurong rover landed safely on Mars on May 15, making China only the third country to successfully land a rover on the red planet.
More impressively still, China is the first Mars-going nation to carry out an orbiting, landing and rovering operation as its first mission.
Planetary scientist Roberto Orosei told Nature China is "doing in a single go what NASA took decades to do", while astrophysicist Jonathon McDowell described China's decision to include a rover in its maiden Mars outing as a "very gutsy move".
Where did it land?
Zhurong, named after the god of fire in Chinese mythology, separated from the Tianwen-1 orbiter and touched down close to the site of previous NASA missions, on a vast plain called Utopia Planitia.
This area of Mars was formed billions of years ago, when a martian meteorite smashed into the planet's surface. The surrounding area is largely featureless, covered mostly in volcanic material.
Zhurong is not the first rover to explore this region. In 1976, NASA's Viking 2 lander touched down further north within the Utopia Planitia basin, returning high-resolution images of the martian surface and analysing soil samples.
The Viking 2 lander lacked the ability to investigate any further than its initial landing site. But the Zhurong rover should be well equipped to roam farther afield during its mission.
What will it do?
The mission's three-month scientific program will begin once the Zhurong rover disembarks from the landing craft and begins its journey across the martian surface. The 240-kilogram, six-wheeled rover is equipped with six individual scientific instruments, and has four large solar panels, giving it the appearance of a "blue butterfly".
Zhurong's design, instruments and technology on board Zhurong are comparable to those on board NASA's twin rovers Spirit and Opportunity, which touched down in January 2004. Although Zhurong is not at the cutting edge of current space exploration technology, the sheer speed of this program's development since its initiation in 2006 is awe-inspiring.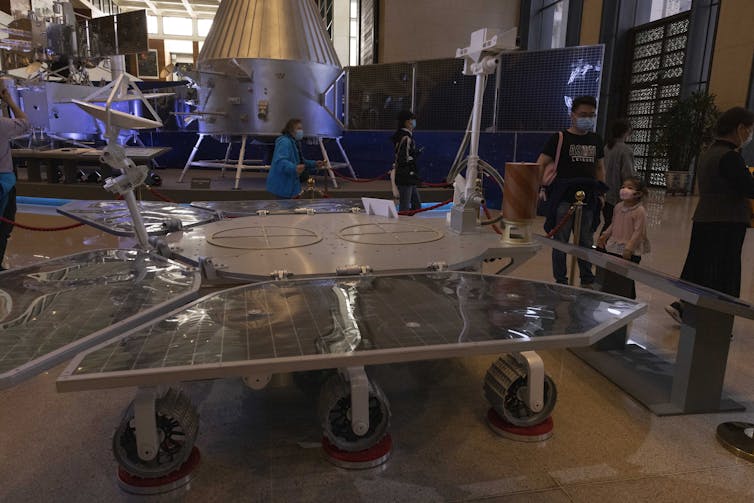 Like the many Mars rovers before it, Zhurong will probe this alien planet's environment, and search for signs of water ice on the surface.
The mission is expected to survey four aspects of its local environmnet:
topography and geological structure

soil structure and possible presence of water ice

chemical composition, minerals and rock types

physical characteristics of the atmosphere and the rocky surface.
Zhurong will thus help build a more complete geological picture of the red planet's history. And, in a genuine first for Martian exploration, it is equipped with a magnetometer to measure the planet's magnetic field. This is an important study that will help address why Mars has lost much of its atmosphere, leaving its landscape so barren.
---
Read more: As new probes reach Mars, here's what we know so far from trips to the red planet
---
China's growing space presence
The Tianwen-1 mission is just one of an impressive list of accomplishments by the China National Space Administration in the past year. Its other feats include launching dozens of Long March rockets, each with multiple payloads, including that of the Chang'e 5 lunar probe, which brought Moon rocks back to Earth for the first time since the end of NASA's Apollo program in the 1970s.
Last month, China launched the first stage of its Tiangong space station, which next year is set to become the world's second long-term home for humans in space. The momentous launch didn't go off without a hitch, however, as debris from the launch vehicle made an uncontrolled re-entry back to Earth, eventually splashing down in the Indian Ocean.
---
Read more: China's Tiangong space station: what it is, what it's for, and how to see it
---
Thankfully no one was hurt in that incident, but it is a timely reminder that China's accelerating pace of space missions and rocket launches need to be carefully managed.
This year of activity has solidified China's powerful presence in space, and we are only seeing the beginning of its ambitious future. By 2045, China hopes to become a leading space power, as outlined in the 2018 Aerospace Science and Technology Corporations route map.
In the coming years we can look forward to seeing China launch crewed missions to the Tiangong space station, and in the coming decades can expect to see China join other space-faring nations in missions back to the Moon and Mars.

Sara Webb, PhD candidate in Astrophysics, Swinburne University of Technology and Rebecca Allen, Swinburne Space Office Project Coordinator | Manager Swinburne Astronomy Productions, Swinburne University of Technology
This article is republished from The Conversation under a Creative Commons license. Read the original article.
Curious Kids: what does the Sun's core look like?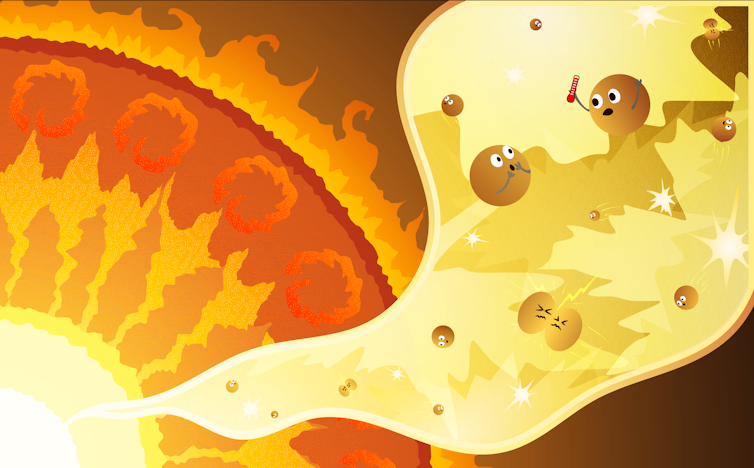 Sara Webb, Swinburne University of Technology
What does the Sun's core look like? Sophie, aged 8, Perth

What does the Sun's core look like? This is a fantastic question Sophie, and one we will need to go on an adventure to answer!
We are about to take a journey to the centre of the Sun. The action begins about 148 million kilometres from our planet when we arrive at the Sun's surface in our space ship.
It's hot here at the surface, about 5,700 degrees Celsius, and the light is brilliant and blinding. As we look closer, the surface appears to bubble, just like boiling water. Some of the bubbles look darker than the others. The darker bubbles are slightly cooler than the rest, but every inch of the surface is still blisteringly hot.
---
Read more: Curious Kids: how are stars made?
---
From zone to zone
We continue on our journey, diving through one of these giant bubbles on the surface, and head towards our first stop: the convective zone.
Surrounding us is a hot fluid called plasma, filled with bubbles by the constant movement of hot gases rising and cool gases falling. The bubbles are moving, growing and shrinking. Some are even popping as our space ship travels down further, rocking from side to side like a boat in a high sea.
After travelling down for 200,000 kilometres (that's about 15 times the width of the whole Earth!) the rocking finally stops. We've made it to our second stop, the radiative zone.
This part of the Sun is very hot. It is now 2 million degrees outside our space ship. If we could see individual light particles, called photons, we'd see them bouncing between the tiny particles, called atoms, that make up the plasma.
These bounces forwards and backwards and from side to side make up a dance scientists call a "random walk". It can take one photon hundreds of thousands of years to randomly walk its way out of this layer.
Our spaceship is going full speed ahead, so we move through it much more quickly.
The weight of all the plasma above us pressing down means the plasma around us is denser than gold, and the temperatures are soaring up towards 15 million degrees! We have almost reached the final stop on our tour, the Sun's core.
---
Read more: Curious Kids: Why do stars twinkle?
---
Welcome to the core
Before we enter the core, we're going to have to shrink down to the size of an atom. It is the only way we will get to see what is happening in here, because what we are trying to see in here is atoms, millions of times smaller than a grain of sand!
The core of the Sun is home to billions and billions of atoms of hydrogen, the lightest element in the universe. The immense pressure and heat pushes these atoms so close to one another that they squish together to create new, heavier atoms.
This is called nuclear fusion. The hydrogen atoms that get squished together form an entirely different substance called helium.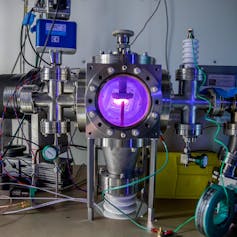 So now that we are in the core of the Sun, what does it actually look like? Not only is everything blindingly bright, but it just might have a pretty pink colour!
We can't be entirely sure what the core would look like to human eyes, but we have seen in labs here on Earth that hydrogen plasma has a pink glow. So we can make an educated guess that hydrogen plasma in the core of the Sun would look about the same.
When atoms merge together, they release large amounts of energy in the form of light. The light works its way up through the core, into the radiative zone where it bounces around, until it finally makes it into the convective zone. Then the light travels up to the surface of the Sun through massive bubbles of plasma, and from the surface it is free to travel uninterrupted through the sky.
It's time to leave the hottest place in our solar system and head back to Earth. Our journey has taken us 700,000 kilometres deep into the interior of the Sun, past the bubbles of the convective zone, through the billions of the light rays in the radiative zone and into the mysterious atom-fusing core.
As we land back on Earth and look towards the Sun in the sky, it's almost like looking back in time. We know now the light we are seeing was created hundreds of thousands of years ago, in the hottest place in the Solar system!

Sara Webb, PhD candidate in Astrophysics, Swinburne University of Technology
This article is republished from The Conversation under a Creative Commons license. Read the original article.